Mission
RECLAIM's mission is to increase access to mental health care for queer and trans youth so they may reclaim their lives from oppression in all its forms. RECLAIM provides financially accessible, specialized mental health care to queer and trans youth ages 12-25 and their families. We also engage in community events and offer training and consultation services to help our partners improve their ability to work with queer and trans folks.
Vision
RECLAIM's vision is that all queer and trans youth enjoy a thriving mental health foundation to live liberated, authentic lives in community.
Values
Collective Liberation – we are all connected. A rising tide lifts all boats.
Healing Justice – we are part of a movement that believes that healing is political.
Abundance – we have what we need. We are enough.
Relationships – we believe that healing happens in community.
Gratitude – we exist because of the generosity of our community.
Emergence – we are works in progress – from seed, to bud, to bloom.
History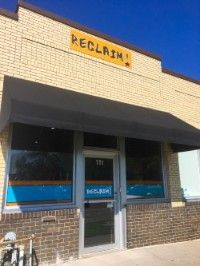 In the late 90's, services for queer and trans (LGBTQ+) youth in the Twin Cities slowly began emerging as awareness of the specialized support needed for this community gained traction within local service provider groups, particularly homeless youth service providers. A small number of support groups and individual therapeutic services for queer and trans youth were developed as programs of larger non-profit organizations. These services met an incredible community need until the recession of 2008 dramatically impacted the scope of services available to youth. Though providers recognized the importance of having specific programs to support queer and trans youth, the newness and smaller scope of these programs as compared to longer-standing programs meant that most services and staffing were lost in widespread budget cuts.
It was out of this loss that RECLAIM was born. Janet Bystrom, a clinical social worker and community advocate, was intimately involved in the creation and implementation of the services and groups that were cut in the recession. In early 2009 she mobilized members of her community in a campaign to create a new space for queer and trans youth and raised over $30,000. This money, in addition to $3,000 raised from some of the youth who lost services, was used to gain fiscal sponsorship support from a local homeless youth non-profit so RECLAIM could take shape as a new "home" for queer and trans youth.
In the years since, RECLAIM has provided accessible therapeutic support to queer and trans youth through therapy, integrative health care, advocacy, and community outreach and education. Throughout its history, RECLAIM's therapy work has remained adaptive to support the changing needs of queer and trans youth. RECLAIM remains focused on supporting the strengths and unique challenges that adolescents and young adults face. We maintain our commitment to financial accessibility to ensure that financial challenges are never a barrier for youth to access vital care. To this day, RECLAIM is one of the only organizations throughout Minnesota that provides specialized mental health care specifically to queer and trans youth.
 
RECLAIM's former locations