Queer & Trans Survivors and Victims Support Group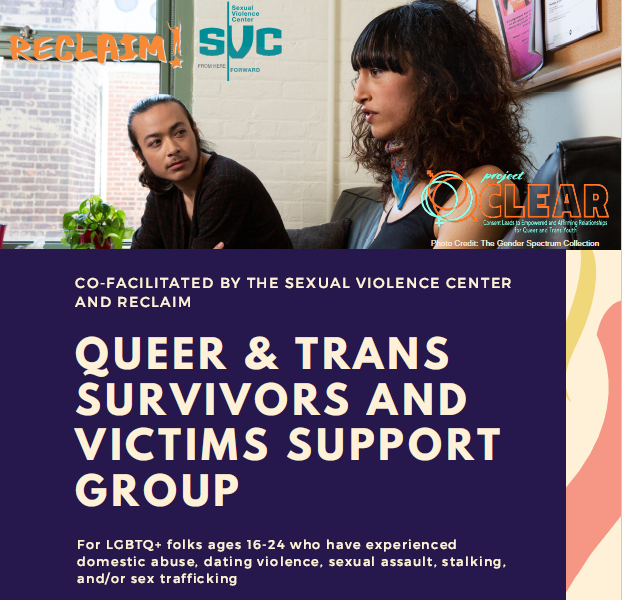 RECLAIM! and Sexual Violence Center in Minneapolis will be co-facilitating a support group for queer and trans survivors and victims. The group is CONFIDENTIAL and FREE for folks ages 16 - 24, who identify anywhere in the LGBTQ+ umbrella, and who have experienced: domestic abuse, dating violence, sexual assault, stalking, and/or sex trafficking.
The group will be from 5:00-6:30 p.m. on Wednesdays from April 17th to June 19th, 10 sessions in total. It will be held at the Sexual Violence Center, 2021 E Hennepin Ave #418, Minneapolis, 55413.
The group is funded by the Office on Violence Against Women, U.S. Department of Justice. Lara Richardson, Advocate at SVC, and Peiying Shi, Post-Graduate Mental Health Intern at Reclaim, will be the co-facilitators of this group.
If you are interested in the group or would like more information, please contact Peiying Shi by April 12 at either 612-564-2194 (open to phone call or text message) or peiying@reclaim.care.