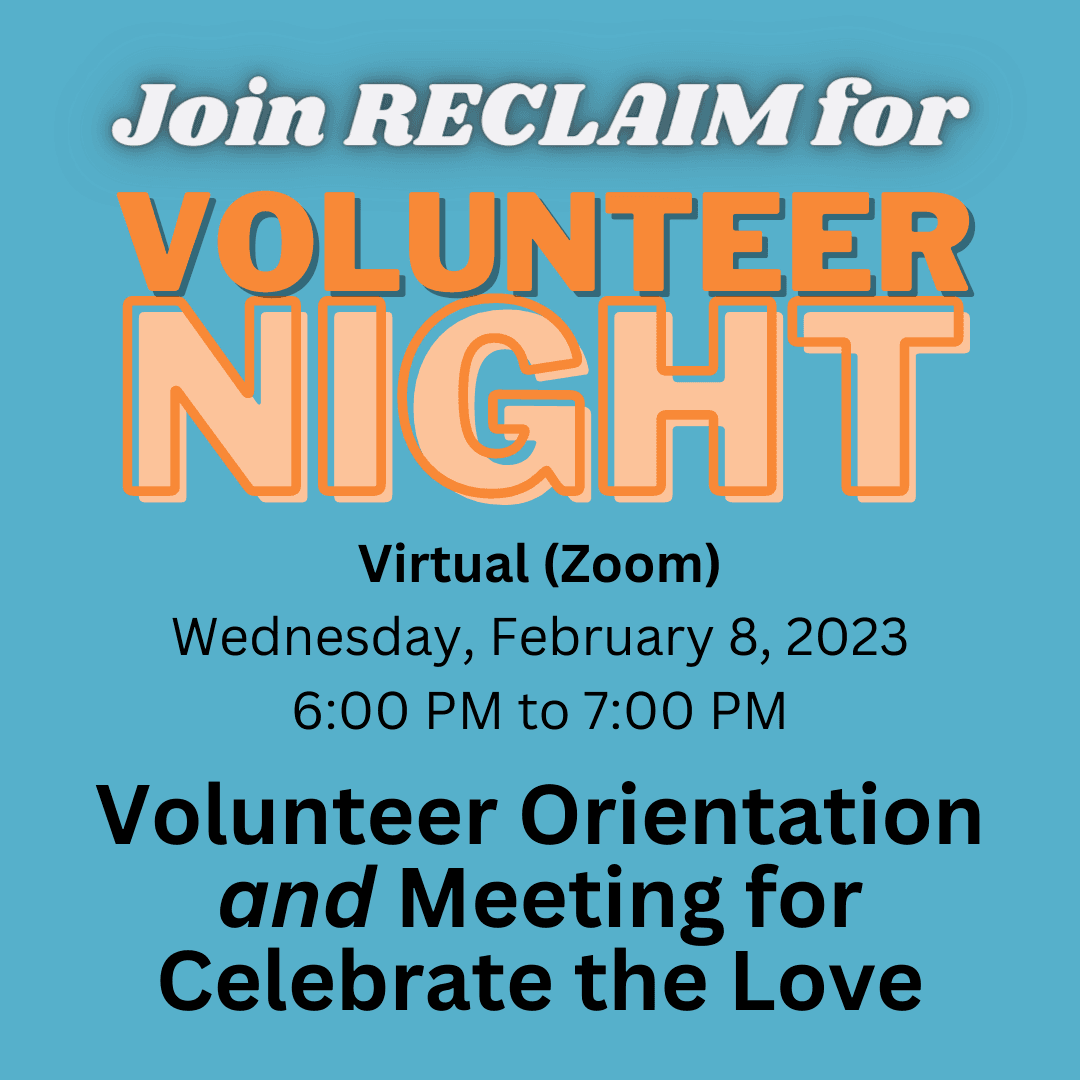 Join RECLAIM for Volunteer Night this February 8! This will be a virtual meeting.
This volunteer meeting has two purposes: to orient new volunteers AND to start getting current volunteers (plus new ones!) up to speed on RECLAIM's biggest event, Celebrate the Love!
The new volunteer orientation will take place from 6:00pm-6:30pm on Wednesday, February 8. At 6:30pm, we will have a volunteer all-call for those interested in helping with our Celebrate the Love event on February 25th, 2023 (and the weeks leading up to it). New volunteers are not required to stay for the CTL meeting, but are encouraged to do so to find out more about the event!
We will start with introductions, an overview of RECLAIM, and will talk through the types of volunteer opportunities RECLAIM has to offer! If you're interested instead in attending an in-person orientation, we will have an in-person orientation in March.
Register through this link: https://www.eventbrite.com/e/reclaim-february-volunteer-orientationctl-meeting-virtual-tickets-530812523547
Examples of current typical volunteer opportunities:
Front Desk Volunteer - to help in our clinic with greeting clients, families, and working on administrative help
Special Events Volunteer - to help out with events like our annual Celebrate the Love Gala and Pride!
RECLAIM Ambassador - take point at tabling events to help represent RECLAIM in the community and reach more people with resources and info about services
Development Volunteer - helps with writing postcards, calling donors, putting together thank you packets, and much more! Many virtual opportunities.